Naha Cruise Terminal Opens for Business
Naha Port is one of the major ports of call in Japan for international cruise ships, welcoming a record high of 243 passenger ships in 2018.
As part of the effort to further promote Naha Port as a destination for cruise ships, Naha Cruise Terminal was constructed to provide a dedicated berth for cruise ships (Tomari Wharf Berth 8). The terminal began operating in April 2014.
A boarding bridge was added to Naha Cruise Terminal and opened in April 2015, making the port even more convenient for arriving cruise passengers. An apron roof has also been added to the terminal.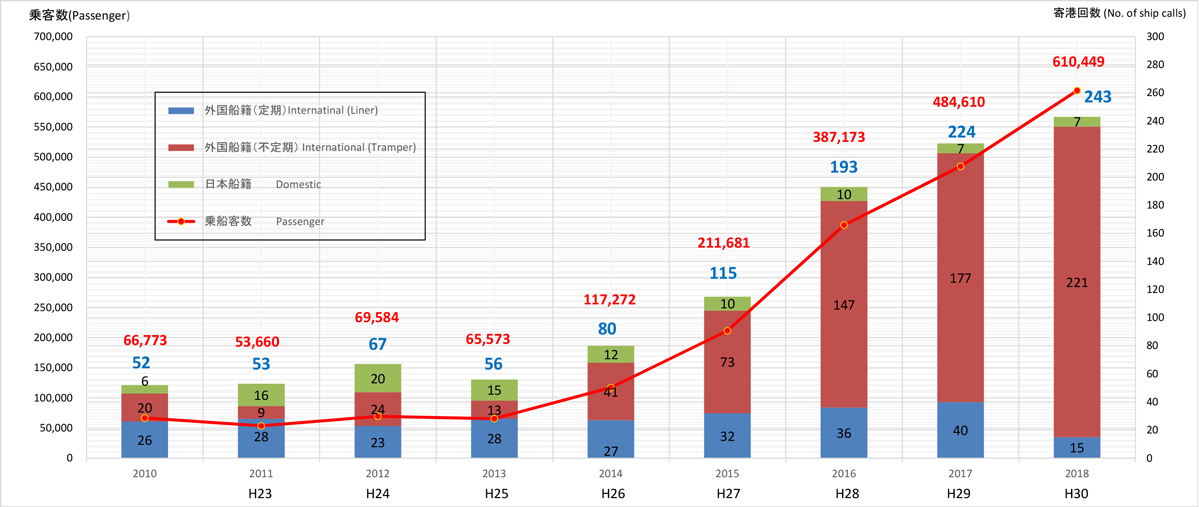 Attracting and Accommodating Cruise Ships
Looking to attract cruise ships to Naha Port as a destination, Naha Cruise Terminal took part in a worldwide cruise competition, promoting Naha Port and greeting docking cruise ships with the Okinawan Eisa folk dance to make visitors feel welcome.
In order to handle demand for ships to dock, ensure that increasingly large cruise ships can be reliably accommodated, and boost cruise ship passengers, Naha Cruise Terminal continues to strengthen its ties with Okinawa Prefecture and relevant institutions. These efforts focus on helping the prefecture achieve its vision of positioning Okinawa as "The Caribbean of Asia" and developing the port as a hub for international cruises.
Addition of Second Berth for Cruise Ships
While the number of cruise ships calling at Naha Port is rising, the cruise ships themselves are also rapidly increasing in size. Steps must be taken quickly to ensure that the port is able to accommodate all arriving ships.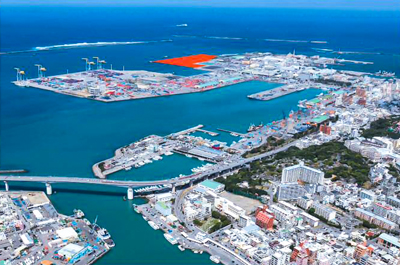 In light of these conditions, the Naha Port Development Plan was partially revised on December 16, 2016. Revisions focused on improving the structure for accommodating ships and bolstering accommodation of cruise ships at Naha Cruise Terminal and existing facilities, while also developing and constructing a second cruise ship berth able to accommodate up to 220,000-ton vessels