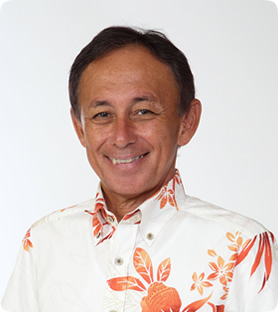 Hello, my name is Denny Tamaki.
I am pleased to have this opportunity to offer a few remarks as president of the Naha Port Authority.
Since the days of the Ryukyu Kingdom, Naha Port has prospered as a hub of trade between Ryukyu and other countries in Asia, particularly China. Today, as a logistics hub and gateway to Okinawa Prefecture for both goods and people, Naha continues to develop as an important port that helps sustain and bolster the economic and social activities that link the prefecture with neighboring islands, as well as with the rest of Japan and the larger world.

Under the Basic Plan for 21st Century Vision of Okinawa and the Okinawa Prefecture Asian Economic Strategy Initiative, we have positioned Naha Port as a base for the transport of consumer and industrial goods in Okinawa, as well as an international logistics base connecting Okinawa with the rest of Asia. To enhance the port's logistics and distribution functions, we have established the Naha Port General Logistics Center and installed facility equipment such as quay cranes. We are also focused on increasing the volume of cargo handled with the support of shippers and shipping companies.

In addition to serving as a hub along the boat routes that make day-to-day life on neighboring islands a bit easier, Naha Port also plays an important role as a base for tourism and travel. In recent years, it has become one of Japan's main ports of call for tourists aboard cruise ships, and as the gateway to the south for foreign tourists visiting Japan, the port contributes significantly to promoting tourism in Okinawa Prefecture.
In order to meet dramatically increasing demand for accommodation of international cruise ships at Naha, work is underway to complete the No. 2 Cruise Berth as quickly as possible. The additional berth space will also bolster the port's role as a cruise ship hub in such programs as fly & cruise tours conducted in cooperation with Naha Airport.

We are committed to helping boost the economic development of the prefecture and improving the lives of the residents of Okinawa. To these efforts, we bring both the dynamism of a dramatically growing Asia and the historic Ryukyu aspiration to serve as a "bridge to all nations," which has been a pillar of this maritime nation's spirituality since its golden age of trade.

In managing the port's operations, the Naha Port Authority will continue to focus on tapping the full potential of Naha's advantageous location at the center of East Asia, with a full awareness of the role our body plays in navigating continued development of Naha Port and Okinawa Prefecture as the gateway for visitors and goods.